There is now an easy way to see the current revenues from Google Adsense in your Geckoboard dashboard – in realtime (only depending on the update frequency of Google Adsense).

Requirements
Adding a Google Adsense dashboard is easy. All you need is a website that can run a PHP script and also has the CURL module installed.
Download
Geckoboard_widget for Google Adsense v1.0
Installation
You only need to download the following archive and extract it to a directory on your webserver. It is not necessary to protect the directory with a .htaccess file because Geckoboard provides an internal mechanism therefor which is implemented in the Adsense widget.
Configuration
Step1: setup widget configuration
You first need to configure the widget itself. Thus you need to edit config.inc.php. The following values are used at the moment:
$login: use your login email address to access your Google Adsense account
$password: write here your password to login with the specified account
$sharedSecrect: this is used to authenticate the request sent by Geckoboard so that only some knowing the secret can access the script and so see your Adsense revenue
$value1: specifies what shall be displayed as the main value, consists of the following elements:

report: defines which Adsense build-in report should be displayed, can be today, yesterday, last7days, lastmonth, thismonth, sincelastpayment
display: defines which value of the selected report is to be displayed; can be: impressions, clicks, ctr, ecpm, earnings
text: optional, can be used to display additional information text (only used for bigger widget sizes)

$currency: optional, can be used as a prefix string before the value; e.g. '$', '€', '£' or another simple string like 'CHF'.
Step 2: Geckoboard
Setup a new instance in Geckoboard. Log in to www.geckoboard.com and go to your dashboard.
Press Add Widget and Select Custom Widgets => Number and Secondary Stat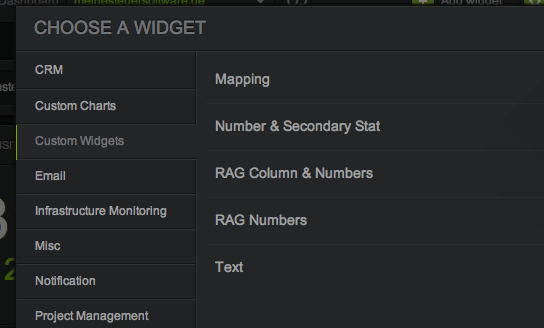 Configure the new widget instance with the following values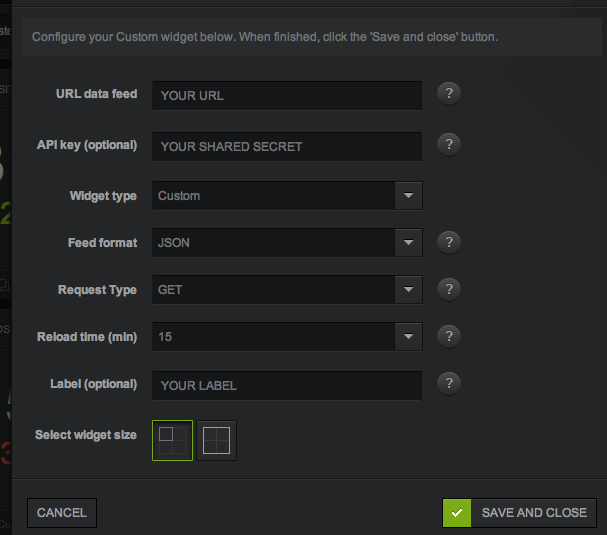 URL data feed: the url where you stored the widget, e.g. www.yourdomain./mygbwidget/widget.php
API key (optional): the shared secret you specified in step one for $sharedSecret
Widget type: Custom
Feed format: JSON
Request format: GET
Reload time: 15 (min)
Label (optional): whatever you like
Select widget size: small should be fine
That's it, now you will see your Adsense stats: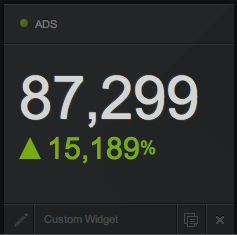 Limitation and known problems
It takes some times until Google finally delivers the data to the widget.
The library to fetch the Google Adsense data is using the old Adsense interface.
References and used libraries