enarion.net released a widget to display the revenues from Google Adsense in your Geckoboard.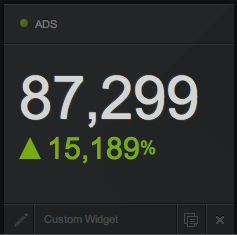 All you have to do is to install the widget code (php-based) on your webserver and add a new custom widget to your Geckoboard widget. Various timespans (including today, yesterday, current month, last month) and values (e.g. ecpm, earnings and clicks) can be selected. Values are extracted in realtime from the Google Adsense account, providing up to the minute information.
The code is released under the GPL license and can be used and modified without charge.
Further information and the download can be found at http://enarion.net/tools/geckoboard-adsense-widget/.
About Geckoboard
You can create, run and share dashboards showing various key / performance values using the webservice Geckoboard. The setup is easy, there are many predefined widgets for various web services including Google Analytics, ZenDesktop, Mailchimp and various more.
About enarion.net
Providing open source tools and development knowledge to the public is the aim of enarion.net. It was founded by Tobias Kluge as home of phpSitemapNG years ago, a tool to generate Google sitemaps.